Rowanwood is excited to announce our latest release, an anthology of original horror stories! Compiled by the Just-Us League, this anthology will be available on October 13th, 2017, and features stories from ten talented authors. Each story will be accompanied by a black-and-white illustration created by our own resident illustrator, Heidi Hayden.
Today, we're revealing the anthology's cover: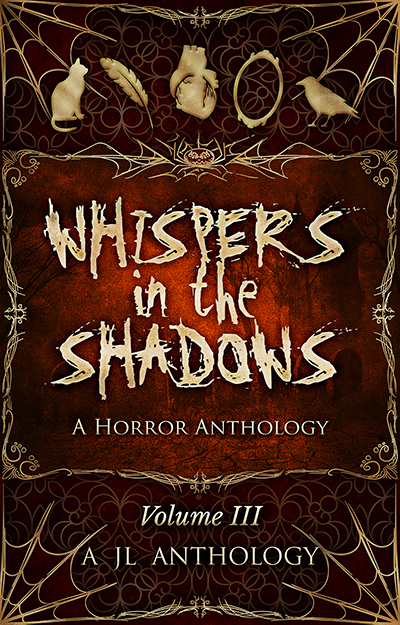 Our cover designer is the wonderful Louis Rakovich of Indigo Forest Designs, who once again has captured the essence of our anthology in his beautiful graphic design.
The blurb for the anthology is:
Even when we think we're safe, our biggest fears can be revealed, our worst nightmares brought to life.
For some, death is inevitable: a suspended detective and killer play a bloody game of cat and mouse; a girl risks her life to save her friends from an urban legend; a doctor's daughter works to uncover the curse on their wayward ship; and an old lady's cats are hungry…very hungry.
For others, death would have been an easier fate: a reflection isn't meant to talk, let alone free itself; a priestess must renew her people's magic, but that ritual carries a terrible price; and a famous boy rejects a lovesick girl…and lives to regret it.
Through life and death, the only constant is our fear of the unknown: bloody footprints continue to walk around a lighthouse; Grandma's warnings of the Autumn People are finally heard loud and clear; and a girl moves into a new house to find a bloodstained carpet…that no one else can see.
Keep the lights on and brace yourself for ten creepy tales of horror and misfortune.
For more information about the Just-Us League and its amazing members, follow the League on Facebook, Twitter, or their website!